Foldable Fishing Bait Trap Cast Dip Net Cage Crab Fish Minnow Crawdad Shrimp - $3.80

Foldable Fishing Bait Trap Cast Dip Net Cage Crab Fish Minnow Crawdad Shrimp Specifications: Material: Nylon, Metal Color: Green Open Size: 50x20x20cm Features: . * Putting some bait in the bait bag, sinking the fishing net in the river. * Then put some other bait in the river above the net, in order to let more fish and lobsters swim into the trap net. * Put away the net from the river when lots of fish swim above the trap net. * Great for catching smelt, eel, crab, lobster, minnows, shrimp and crawfish. Package includes: 1 x Folded Fishing Net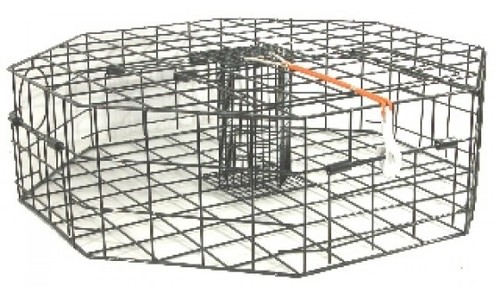 This is just one example of what you might find here at times
Size: 50cm length, 22cm width (19.6 x 8.6 inch)
Fishing Net Trap with enter design are great for catching smelt, eels, crab, lobster, minnows, shrimp and crawfish.
Special zipper design for easy take out the fish, crab, lobster and crawfish.
Fishing Net Trap is made of nylon net with circle alloy frame design,After folding is small in size and easy to carry.
Putting some bait in the middle bait bag, sinking the net in the river, then put some other bait in the river above the net, in order to let more fish and lobsters swim into trap. put away the net from the river when lots of fish swim above the trap net.
This is ideal for catching crayfish, crabs, lobsters, prawns, minnows, etc. It is very easy to use and has been proven effective by both novice and experienced trappers! It is especially good for kids to use as they can master it quickly and will be excited with their catch!
This trap is easy to use and effective. It provides fun for kids and adult, and a delicious meal at the end of the day. Pack one or two in your backpack when you go camping around the river. It can also be used in salt water.
Promar traditional heavy-duty coated steel wire shrimp trap. Comes with 4 customizable entrance tunnels, built-in steel bait box and 2 way harness. 1" X 1" mesh (7/8" X 7/8" inside). Measures 24" x 24" x 9". Check your local and state regulations for season and gear restrictions. 14 gauge vinyl coated steel, 1" mesh 4 traditional style entrances Built in 5" x 5" x 9" bait box Includes 2 way harness Top side tending door

30cm Length Foldable Steel Wire Fishing Pot Trap Net Crab Shrimp Cage Fishing Basket