This is an international site as the internet is worldwide so
you may see several different languages here from time to time
Some good advice-the rip tides and currents in this area
have been known to take people out to sea and drown them-
if you like to wade fish in the surf area
it is a good idea to wear a life vest
or other flotation device that you can really depend on!!
Texas Gulf Coast Beach Currents can change very rapidly
and are known to cause a lot of people to drown each year!!
Bryan Beach Jetties after being remodeled by the Corp of Engineers(they are a lot longer now than shown here)
,,,,,
If anyone that used to fish or surf or beach comb at the old Surfside Beach,TX
in the 60s might have any photos of the beach and the old Fishermans Wharf-
the Jetties Area and other areas-please contact me at
davidjonathonward@yahoo.com
,,,,,
I also recommend wearing a good pair of old athletic shoes

or shoes made for walking in the water areas

to prevent cuts and stings-

there are a lot of sharp shells along the beach

that can really ruin a nice day at the beach!!
,,,,,
Surfside Jetty after remodeling by the Corp of Engineers-

I used to dive for tackle off of these rocks-

I remember my Grandmother waking me up at 4am

to go fishing here and across the channel

at the old Velasco Jetty before the jetties were remodeled.
A word of warning-
there are a lot of Portugese Man O War Jelly Fish around these jetties
and the sting is very painful!!
After a storm they have been known to cover the beach!!
The Surf-ready Spinfisher Combo is ready to cast with the exceptionally durable and capable Spinfisher 750SSm Metal Reel and the performance oriented Penn Spinfisher Surf Spinning Rod. The Spinfisher 750SSm Reel boasts an strong full metal body and is equipped with 5 corrosion resistant stainless steel ball bearings and an infinite anti-reverse roller bearing for immediate hook setting capabilities. Thanks to the latest in computer and stereo-lithography modeling the Techno-Balanced reel offers an incredibly balanced feel. HT-100 drag washers provide smooth drag under heavy loads and the Leveline spool wrap system is reliable and easy to use. The Spinfisher Surf Spinning Rod is designed to perform in the surf, whether you're throwing soft-plastics, hard-plastics, worms, and clam or slinging cut-bait. The Spinfisher Surf Rod features a high-modulus tubular graphite blank for increased casting distances and superior fish-fighting power and is equipped with friction reducing AX Spin aluminum-oxide guides. The rod features comfortable EVA grips and rod butts and hooded reel seats. Backed by a 1-year warranty from Penn, the Spinfisher Combo delivers an exciting performance at the waters edge.



This was my playground almost every day spring and summer

I loved every minute of it even if the skeeters were terrible!!

Needless to say girl watching was one of my favorite pasttimes!!

With the Ship Channel right there the air can get to be pretty bad here at times!!

Me at the local Angleton Library working on my websites-one of my favorite hangouts!!

You can upload photos from your smartphone to photobucket.com and they will store them for free!!
you can see the effect of tide and current erosion on Surfside Beach Texas-the beachfront used to extend for several hundred feet in front of this beachhouse.

I own the copyright for a beachfront jetties network design (to control this erosion) that extends from the mouth of the Brazos River to the mouth of the San Luis Pass area.

I believe that it is the force of the current from the creeks and bayous whose entrance was closed off and their course was changed, and is being forced to flow through the ship channel,

that is causing this erosion effect-these creeks and bayous need to be reopened to allow the current to follow its natural flow path!!

As it is the force of the current is actually flowing under Surfside Island and is washing it away!!

Bluewater Highway that follows the coastline to Galveston from Surfside Beach area has washed out several times in the past due to this effect!!

While swimming in some areas along the beach I have observed the flow of the current emerging from under the beach with some force!!

This is all part of my copyrighted program!!
Visit my twitter page at
my facebook page at
David J Ward made the Presidential Whos Who list of the Leading Businessmen of 2009!!
And was previously voted into the Cambridge Whos Who list of the Leading Businessmen of the 20th Century.
David J Ward was voted into the Cambridge Business College Alumni with a Masters Degree in Business
David J Ward was also voted into the University of Virginia College of Mechanical Engineering Alumni with a Masters Degree in Mechanical Engineering
David J Ward was appointed to the position of Captain by the President of the United States of America in recognition of many years of successful Maritime Vessel Salvage and was recognized as a Captain by the Commanding Admiral of the JAGNAVY Courts.
In January of 2013 I was approached by a person who identified themselves as a member of the Harvard Alumni Association and was told that the Alumni Association was considering voting me into the Harvard Alumni with an Honorary Masters Degree in Three Majors-Business-The Fine Arts-and Liberal Arts.
All of these honors are being granted in recognition of Design Works Copyrighted by me in person at the Library of Congress Copyright Office in Washington DC in July of 1984.
See this website to view my designs and copyright information that I copied and pasted from the Library of Congress Website.
A word of advice from someone who has had a lot of experience with car and truck breakdowns at the beach-always keep both a set of jumper cables and a good battery booster pack in the trunk of your car or in your truck toolbox-or under the seat when you are camping out at the beach or gone fishing on the jetties!!
This website is managed by a

Veteran of the US Armed Forces.

Veterans remember to get your flu and tetnus shots

for free at your local VA Clinic!!
to a good responsible fisherman-a good knife is a tool to be used for cleaning fish and rigging tackle-not to be used as a weapon if at all possible!!
10 person tents-6 person tents-8 person tents-some with seperate rooms for privacy-see this site for more info
10 person tents-6 person tents-8 person tents-some with seperate rooms for privacy-see this site for more info
Give this site a minute or two to fully load-
it contains gallery images
which take a little longer than regular banners to load.
Point the cursor over the gallery image and more info will appear-or click the image to find purchase info.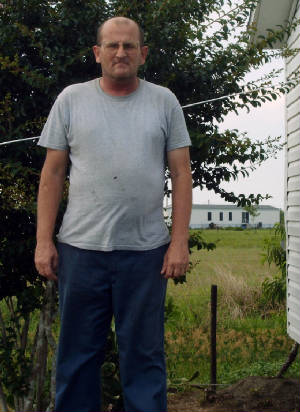 all profits from all sales on this website and all of my other websites help to replace a burned home-any purchase that you make here helps-no matter how large or small!!
LEARN HOW TO START YOUR OWN AREA BOY SCOUT TROOP!!! CLICK HERE AT

http://www.scouting.org

--you can find Boy Scout and Girl Scout uniforms at

http://www.scoutstuff.org

--plus a lot more to outfit your troop with-get involved!!! The Boy Scout Handbook is still just 7.95 and still the main publication of the BSA!!! You can find camping gear and freeze dried foods here also!!
notice to other webmasters-if you would like to see your link on this page-send me your link and your email address-and you must accept an exchange link to place on your homepage